For the singers Benny and Hendrix and the new song "You said", Stefan Czech and his Team shot the very first music video on a Sony A7S and the Atomos Shogun in 4k UHD.
No noiserecution. Slight YUV/color correction adjustment. Shot at 11th. Dec.2014
Camera: Sony A7S
ISO: 3200
Lenses:
Zeiss Distagon T* 2,8/15, Zeiss Distagon T*1,4/35mm; Zeiss Makro-Planar T* 2/50mm, Zeiss Otus 1.4/55
Recorder 4K: ATOMOS Shogun (beta firmware)
Format: UHD 3840x2160p25 8bit 4:2:2 ProRes HQ
Edit: EDIUS Pro 7 Grass Valley
---
---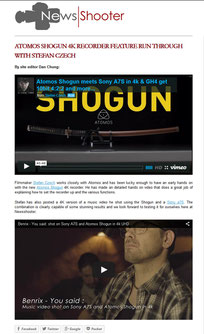 News Shooter. com, the most popular website for filmmakers anaunced today the review of the Atomos Shogun and the musicvideo from Benrix on there website.
In 24h more than 4200 views on Vimeo.
Thanks a lot.
---
This is the review of the new Atomos Shogun 4k recorder.
Stefan Czech shows how this monitor/recorder make the Sony A7S a 4k camera.
What happend when the Shogung meets the Panasonic GH4...is there a big step with 10bit 4:2:2 recording?
And what is with the HD cams like Canon C100 and 5D Mark 3?
You see also some of the fisrt shots in 4k, incl. of the music video,...the first on the Sony A7S in 4k
---
The news podcast for 4k videoediting with footage from the Panasonic GH4. But not only nativ 4k resolution is important, also the workflow and effort to work with 4k footage for a fullHD project will be show here.
Der neuste Podcast zum Thema Videoschnitt von 4k Material aus der GH4 von Panasonic. Aber nicht nur 4k in nativer Auflösung ist interesant. Auch das Arbeiten und die Vorteile von 4k für ein fullHD Projekt werden hier gezeigt.
---
Stefan Czech working for ATOMOS at the IBC 2014 in Amsterdam. Lot of questions and very good vibes arround. Great fun to work with this people.
---
Ende Juli 2014 bekam Stefan Czech das neue Zeiss Otus 1.4/85mm in der Version ZE und ZF um damit die Produktshots für den Zeiss Promofilm zu drehen.
Dabei kam das Objektiv natürlich auch "verdeckt" zu ein paar Testaufnahmen zum Einsatzt.
Heute am 08.09.2014 wird es offiziell vorgestellt und die Bilder können online gehen.
Vielen Dank geht an Marco für die BTC Bilder © Marco Kronsbein
---
Die MAKflex Zielfernrohrmontage kann auf allen Langwaffen montiert werden.
Vom Repetierer bis zur Doppelflinte. Ein neuer Film für diesen Kunden.
Packshoots, Schiesstand und Motion Grafix.
---
Steyr Mannlicher wird 150 Jahre. Und da wir nicht nur Produktfilme machen können, war es für Steyr keine Frage uns wieder den Auftrag zu geben. Eine sehr schöne Veranstaltung mit vielen Höhepunkten. Das ganze in einer schönen 3D Animation verpackt, wird dem auch gerecht.
---
Für die Firma Andreas Jakele Ihr Partner für Jagd und Natur aus dem Allgäu haben wir insgesamt 10 Filme über und für Ihre Produkte gemacht. Vom Ziehlstock und den detailierten Schritt für Schritt Anleitungen über die Jakele Heckspornkappe, dem VORN Rucksack mit Gewehrtasche, Mündungsschoner, Gewehrauflage, Gewehrriemen und Blaser R8 Schaftkappe. Alles vor Ort im Hauseigenen Revier gedreht und mit der typischen Andreas Jakele "Art" gesprochen. Informativ und kurzweilig.
---
Von Dezember 2013 bis Januar 2014 habe ich einen Podcast für Grass Valley und Canon über die neue Firmware der Canon C100 und das Zusammenspiel mit dem Schnittprogramm EDIUS Pro 7 gemacht.
Jetzt ist er endlich offiziell online.
The new Podcast for the C100 & EDIUS Pro 7 is online. The new firmware of this camere offers some new feature you can use in the editing programm from Grass Valley.
---
---
03.03.2014
Geschafft: innerhalb von zwei Wochen haben das Team von Stefan Czech Filmproduktion sieben neue Filme für die Firma Steyr Mannlicher in Österreich gedreht, und fertig gestellt.
Für zwei Jagdgewehre, zwei Behörden Sturmgewehre mit 40mm Granatwerfer, zwei Scharfschützen Gewehre und einem speziellen Gewehr im Kaliber .50BMG.
Neben den für SCF "üblichen" Packshoots und Kamerafahrten um die "Produkte" konnten zusammen mit Spezialisten einer Sondereinheit auch "Anwendung Beispiele" gedreht werden.
Dabei wurden auch Kamerafahrten vor der Mündung während es scharfen Schusses realisiert.
Da es sich hier teilweise um Waffen handelt, die unter die strengen Regulierungen des KWKG (Kriegswaffenkontrollgesetz) fallen, war ein Dreh nur vor Ort bei Steyr Mannlicher und mit entsprechenden Personen möglich.
An dieser Stelle noch einmal einen herzlichen Dank an alle Beteiligen. Auch wenn diese hier Namentlich nicht genannt werden dürfen.
---
25.Feb.2014
Stefan Czech take look at the brand new Atomos Ninja Blade field recorder. With the new super-bright 5" IPS 1280 x 720 touchscreen monitor from the Samurai Blade, the Ninja Blade brings highend field monitor and HDMI field recorder together. For the Canon EOS C100 and the Canon EOS 5D Mark III the new Ninja Blade fill the gapp between the Ninja2 and the Samurai Blade.
---
Der Film zum neuen "Super5" Füller.
Mit der super 0,5mm Schönschreibfeder wird eine präzise Positionierung für ein feines und individuelles Schriftbild möglich. Dieser Füller ist für Rechts- und Linkshänder einsetzbar.

Für diese Aufnahmen wurde teilweise ein Lupenobjektiv mit einem Abbildungsfähigkeit von bis zu 1:5 eingesetzt. Das ist aber noch nicht das Ende der Geschichte.
Dieser Füller ist so gut, dass ich diesen Füller auch meinen Guten Kunden anbieten werde.

---